Model Number
IRTFC600
Applicable Place
Staff way(Temperature measurement), Intelligent Gate(Temperature measurement), Police temperature measurement place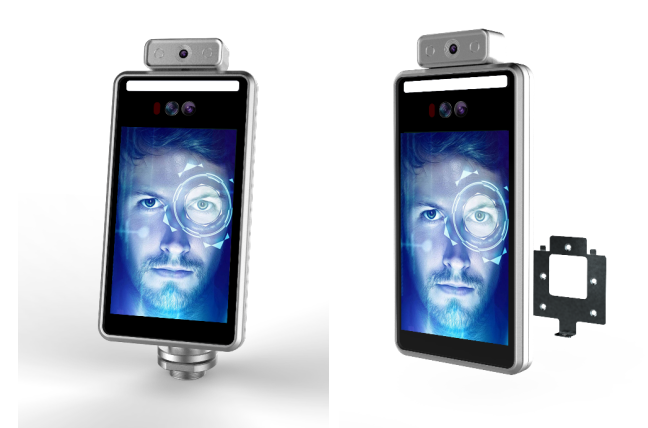 ·Support binocular detecting
·Unique human face recognition algorithm, accurate detect human face with less than 1s.
·Support movement tracking exposure under strong backlight environment
·With LINUX operating system, better system stability
·Support TF card storage, image storage for 1 year or longer (Depends on TF card capacity)
·Average trouble-free running time MTBF >050000h
·Supports more than 24,000 face comparison libraries and 160,000 recognition records
·Multiple interface protocol, support Windows/Linux and other platforms under the SDK and HTTP protocol
·Support medium distance temperature measurement and high temperature alarm
·Support temperature data interface protocol docking
·Support external connecting ID card reader
·Supports external access control system or Wiegand  card readers via the international standard Wiegand  Protocol (WG26, WG34)
·Supports local login management, query, set up.
·8 inch IPS full view HD display, no image drag, no delay
·Automatic gain, automatic white balance, ensure image with natural color
·Built-in special black light level sensor for video surveillance, more accurate identification of low illumination
·3D noise reduction and fog penetration make the monitoring picture under low illumination more clear and exquisite
·Support stream and I frame interval settings
·Automatic white balance, manual white balance
·Support video brightness, contrast, hue, saturation, gamma adjustment
·Supports intelligent face exposure and face intelligence enhancement settings
Parameter
Key Parameter

 

Processor

Dual-core processor +1G memory +16G flash memory

Operation System

Embedded Linux operating system

Storage

Support TF card storage

Camera

Binocular, 2.1MP effective pixel camera,1920*1080

Angle of view

Vertical: 30°, horizontal: 30°

Image sensor

1/2.8" Progressive Scan CMOS

Lens

6mm

 4G module

Optional

Wifi module

Optional

BLE module

Optional

Loudspeaker

Optional,voice content can be customized

Temperature measuring performance

 

Measuring environment

Recommended to use it indoors at 16℃~40℃

 IR LED type

IR array LED

Array resolution

32*32

measurement accuracy

±0.5℃

Temperature resolution

0.1℃

Temperature measuring distance

≤100cm

Response time

≤1s

Performance

 

Recognition height

1.2~2.2m, angle adjustable

Recognition distance

0.3~1.5m,lens adjustable

Face angle

Left/right 30°, up/down 30°

Recognition time

Less than 1s

Memory capacity

160,000 snapshots

Face capacity

24000

Interface

 

communication interface

 RJ45 Adaptive Ethernet port (can support custom WiFi)

Physical interface

Wiegand  input/output; USB; Switching output

Wiegand interface

 

1ch Wiegand interface input, 1 ch Wiegand interface output

USB Port

1CH USB interface

communication interface

1CH RS485 interface

Function

 

Website configuration

Support

Remote upgrade

Support

Stranger detection

Support

Deployment way

Support public network, LAN 

General parameter

 

Operating humidity

0 ~ 90% relative humidity, no condensation

Power supply

DC12V/2A

Pillar aperture

36mm

Salt spray level

Above Rp6

Antistatic

Contact ±6KV, air ±8KV

Device power

20W(MAX)

Screen spec

8 inch IPS HD display screen

Device weight

1.7kg

Size

252(L) * 136(W) *26(H)mm
Interface definition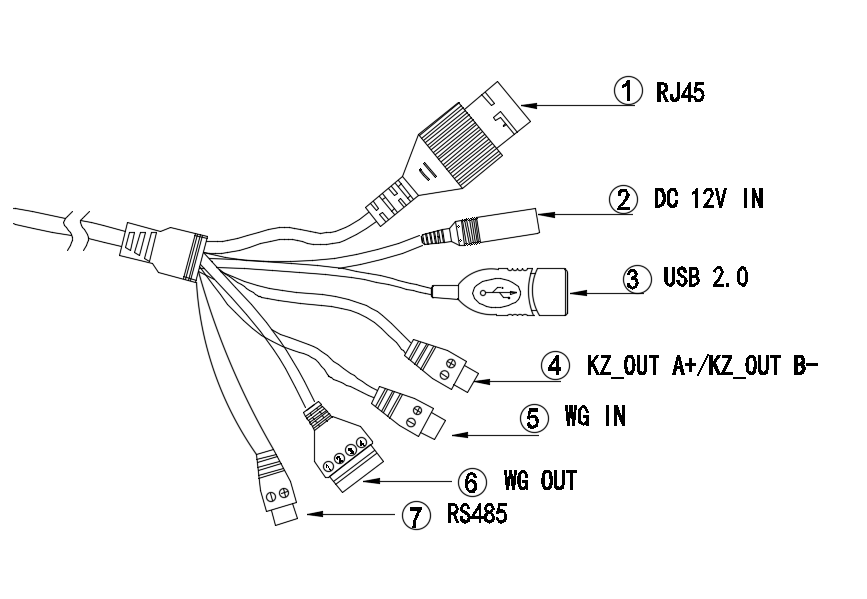 No

Name

QTY

Note

1

Ethernet port

1

RJ45

2

Power supply

1

DC12V IN

3

USB

1

USB 2.0

4

Switching output

1

A+/B-

KZ_out A+/KZ_OUT B-

5

Wiegand protocol input interface

1

D0

D1

6

Wiegand protocol output interface

1

VCC12V

GND

D0

D1

7

RS485 interface

1

485+

485-
Remark
1、10 minutes to warm up the device before using. Operating environment is indoor at 16 ° C-40 ° C. Try to avoid facing to the air outlet.
2、Entering the room from the cold outdoor environment will affect the temperature measurement accuracy;
3、Exposure to certain factors, such as showers, hair dryers and sprays, will affect the forehead temperature.
4、When there is oil, makeup, oxygen masks on forehead, or wrinkles in the elderly, the reading temperature will be lower than the actual temperature
5、Making sure the reading temperature area is not covered by hair or clothing.